Dev Page
Jump to navigation
Jump to search
TEST PAGE (Not for official use)
CONSTRUCTION MANUAL
Bureau of Field Services
Construction Field Services Division
Providing the highest quality integrated transportation services for economic benefit and improved quality of life.
For helpful tips on how to utilize the features that exist within MDOT's Construction Manual Wiki, check out the video resources that are now available. Click on the thumbnail below to go to the Construction Manual Wiki Tips video library.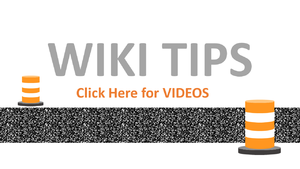 To learn about how to sign up to receive updates related to MDOT's Construction Manaul Wiki along with other State of Michigan content check out the video provided below.
---
The table below is a list of Major changes.
---
The table below is a list of Major changes.
A definition to the types of changes that you might see in the Construction Manual can be found under Content Revision Procedures, Types of Changes.
---
The table below is a list of Minor changes.
---
This manual provides guidance to administrative, engineering, and technical staff. Engineering practice requires that professionals use a combination of technical skills and judgment in decision making. Engineering judgment is necessary to allow decisions to account for unique site-specific conditions and considerations to provide high quality products, within budget, and to protect the public health, safety, and welfare. This manual provides the general operational guidelines; however, it is understood that adaptation, adjustments, and deviations are sometimes necessary. Innovation is a key foundational element to advance the state of engineering practice and develop more effective and efficient engineering solutions and materials. As such, it is essential that our engineering manuals provide a vehicle to promote, pilot, or implement technologies or practices that provide efficiencies and quality products, while maintaining the safety, health, and welfare of the public. It is expected when making significant or impactful deviations from the technical information from these guidance materials, that reasonable consultations with experts, technical committees, and/or policy setting bodies occur prior to actions within the timeframes allowed. It is also expected that these consultations will eliminate any potential conflicts of interest, perceived or otherwise. MDOT Leadership is committed to a culture of innovation to optimize engineering solutions. The National Society of Professional Engineers Code of Ethics for Engineering is founded on six fundamental canons. Those canons are provided below. Engineers, in the fulfillment of their professional duties, shall:
Hold paramount the safety, health, and welfare of the public.
Perform Services only in areas of their competence.
Issue public statement only in an objective and truthful manner.
Act for each employer or client as faithful agents or trustees.
Avoid deceptive acts.
Conduct themselves honorably, reasonably, ethically and lawfully so as to enhance the honor, reputation, and usefulness of the profession.

This manual has been revised throughout to incorporate changes brought about by the release of the 2012 Standard Specifications for Construction and by progress in equipment, construction practices, and materials. The format has been established to follow the standard specification outline with divisions and sections set up to facilitate revision and addition of new information as needed.

Additional information about the Wiki Construction Manual and submitting revision suggestions is located in the Help:Contents page.
---

This page is for testing purposes
Preconstruction Meeting – A preconstruction meeting shall be held after the contract award. The LPE is responsible for scheduling and conducting the preconstruction meeting and shall invite the DR. The DR (or designee) is encouraged to attend local agency preconstruction meetings. In addition, the DR (or designee) shall attend preconstruction meetings for projects within MDOT's right-of-way. For additional information, please refer to MDOT's Construction Manual, Section 102, Preconstruction Meeting. The LPE is also responsible for submitting the following information to the DR, along with the progress schedule:

• The authorized person employed by the local agency and their contact information.
• The project engineer, including their PE license number, expiration date, and contact information.
• The testing and inspection personnel with certification numbers and expiration dates.