Main Page
Jump to navigation
Jump to search
CONSTRUCTION MANUAL
Bureau of Field Services
Construction Field Services Division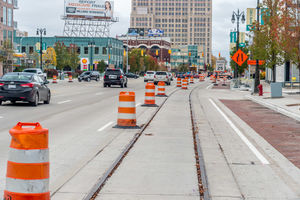 This manual has been prepared to give information and guidance to construction project personnel associated with the Michigan Department of Transportation (MDOT). It is not a part of any contract and therefore is not binding on the contractor. In case of conflict between the Standard Specifications for Construction or contract documents and this manual, the specifications and contract documents will have precedence.

This manual has been revised throughout to incorporate changes brought about by the release of the 2012 Standard Specifications for Construction and by progress in equipment, construction practices, and materials. The format has been established to follow the standard specification outline with divisions and sections set up to facilitate revision and addition of new information as needed.

Additional information about the Wiki Construction Manual and submitting revision suggestions is located in the Help:Contents page.

Since it's release in April of 2014 there are a total of 5,268 registered users of the MDOT Construction Manual.
---
Providing the highest quality integrated transportation services for economic benefit and improved quality of life.
---
General Information
With the first release of the MDOT Wiki Construction Manual there are bound to be some errors. If you find an error on a page please contact the Content Manager for that particular Division located here in the Help page. Some sections are still undergoing content revisions, most have been identified by the Content Managers and are noted as such in the Wiki Constrution Manual.

Content will be revised frequently and a way to monitor what changes have occured recently is by using the Recent changes page. This page will show all major and minor edits along with new users that were created. Pretty much everything that goes on in the Construction Manual. For a more specific listing of content changes you will want to see the Recent Major Changes page or Recent Minor Changes page which contain manually updated lists of content changes for specific sections of the Construction Manual.
---
The table below is a list of Major changes.
| Updated | Division | Section | Summary | What Changed |
| --- | --- | --- | --- | --- |
| 3/23/2017 | 1 | 109 | Incorporated information part of CA 2015-14 for DOCUMENTING PRICE NEGOTIATIONS | Compare It |

A definition to the types of changes that you might see in the Construction Manual can be found under Content Revision Procedures, Types of Changes.
---
The table below is a list of Minor changes.
| Updated | Division | Section | Summary | What Changed |
| --- | --- | --- | --- | --- |
| 3/27/2017 | 1 | 109 | Updated reference to CFR and included link | Compare It |
---