CAD Training
Jump to navigation
Jump to search
Welcome to the MDOT CAD Training page. The purpose of this page is to provide the latest training content from MDOT as it relates to CAD software that is currently in use at MDOT. In addition, this will provide general information regarding MDOT's transition to Bentley CONNECT edition products.
Please follow the directions on this page: Design Training to create Bentley Accounts.
Use the navigation bar to the right to find and register for training. If the instructions are not clear, or further CAD training is needed beyond what is available on this page, please contact: MDOT Engineering Support Training
The CONNECT edition of Bentley products are a family of products that are built on top of new version of Microstation known as Microstation CONNECT edition. These new software packages represent the latest in design software from Bentley Systems, and offer many new tools to increase productivity.
Overall, the software is very similar in operation to SS4 from both a modeling standpoint and a drafting standpoint. However, the platform is much more stable and offers many new tools to support dynamic modeling and labeling.
CONNECT edition products that will replace PowerGEOPAK SS4 / SS10 at MDOT include
OpenRoads Designer
OpenBridge Modeler
OpenBridge Designer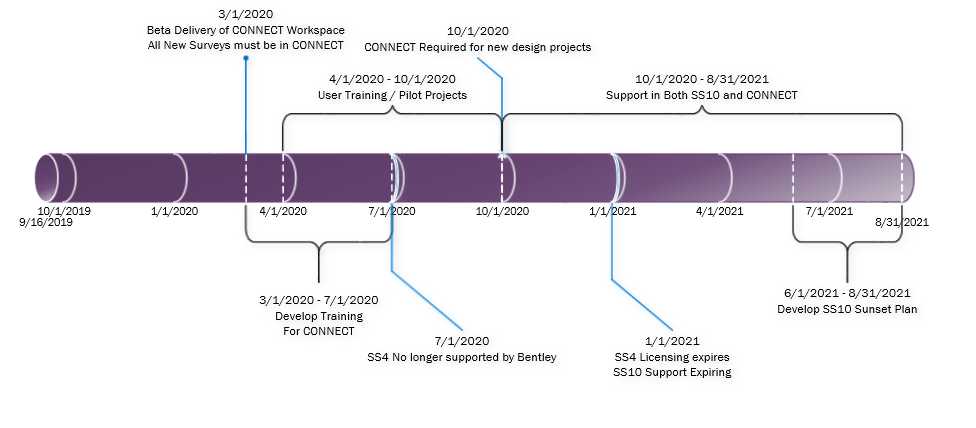 Bentley will be retiring SS4 in favor of SS10 over the course of 2020
SS10 is essentially the same as SS4 but with a different licensing protocol

Projects in SS4 will be able to be completed in SS10 with no conversion to the DGN files

SS4 support ends by Bentley on 07/01/2020 (the software will still work)
SS4 will not work (you will not be able to get a license) on 01/01/2021

Any projects still in design will have to be completed in SS10
SS10 Support begins expiring by Bentley on 01/01/2021

Expiring support means that Bentley will still provide fixes for critical bugs that stop the software from working properly

SS10 support officially expires 01/01/2022

The software will still function after this date, but Bentley will not fix potential critical issues that impact the use of the software
Bentley has not set a date when SS10 licensing will expire
MDOT's goal is to complete (turn in or convert) all SS10 projects by the end of 2021

For more information on Bentleys desktop application support policy, please visit Bentley's Website
MDOT is in the process of upgrading software versions from SS4 to OpenRoads Designer which is a generation ahead of SS10
MDOT will also be upgrading from SS4 to SS10 in order to support projects that are currently in design that will not be completed in OpenRoads Designer (anticipated mid 2020 for SS10 to be available internally)

Externally, consultants can be using SS10 today
All new design projects starting 10/01/2020 (from the date the contract starts) must be designed using OpenRoads Designer
MDOT will continue to support both SS10 and OpenRoads Designer until all SS10 projects have been complete
A SS10 Sunset Plan will be developed for 2021 in order to mitigate potential risks in using the software as support for the software is expiring.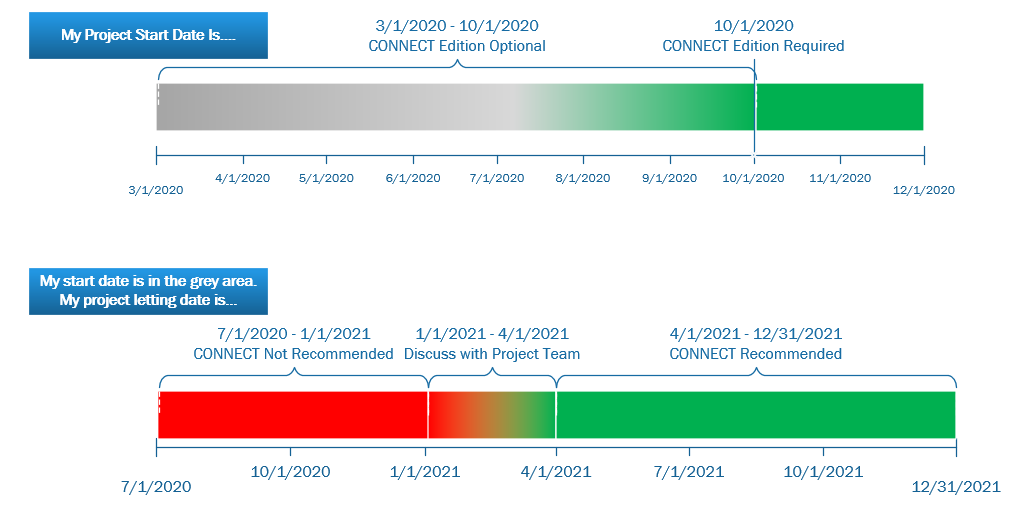 | PowerGeopak SS4 | CONNECT Edition |
| --- | --- |
| Single Core Processing | 64 Bit Multi Core Processing |
| Unlinked Quantities | Model Based Quantities |
| Static Annotation | Dynamic Attribute Driven Annotation |
| PowerGeopak SS4 | CONNECT Edition |
| --- | --- |
| GPK | Eliminated, information stored in DGN |
| Tin | Terrain Model |
| Cogo | Horizontal and Vertical Geometry Tools |
| Active Chain Control | Analyze Point |
| Plan View Labeler | Annotate Element Dynamic Labels |
| Design and Computation Manager | Eliminated |
| Design and Computation Manager for Profile Annotation | Annotate Element Dynamic Labels |
| GeoPak Drainage | Drainage and Utilities |
CONNECT edition licensing relies on a cloud based solution from Bentley Systems. All users will need to log into the connection client in order to use any CONNECT edition product (Connection Client is automatically installed with the software). Please see the video on the Design Training Page for more information on how to set up a Bentley account
Projects designed using the CONNECT Edition should be labeled in accordance with the MDOT Road Sample Plans. Projects may be set up with individual sheets or ProjectPDF.
The MDOT CONNECT workspace contains Text Styles, Dimension Styles, Feature Definitions, Levels, Annotation Groups, Seed Files, etc.
Microstation CONNECT Edition does not support Shx fonts. The new MDOT Text Styles use the Arial True Type Font. There are no longer existing and proposed text styles. All existing and proposed text will be the same size.
| MDOT CONNECT Workspace | Usage |
| --- | --- |
| MDOT_Mask | Standard size sheet labels that mask elements of lower priority |
| MDOT_NoMask | Standard size sheet labels that do not mask elements of lower priority |
| MDOT_1.5_x_Mask | Road names, section and detail view titles |
| MDOT_2.0_x_Mask | Bridge Use Only |
New dimension styles are included in the workspace.
| MDOT CONNECT Workspace | Usage |
| --- | --- |
| MDOT_Contour | Terrain Contour Labels |
| MDOT_Frame_Box | Places a rectangular outline around dimension text |
| MDOT_Frame_Capsule | HMA app designators; adj/rel callouts |
| MDOT_Frame_Circle | Removal Callouts |
| MDOT_Mask_Ft | Road Dimensions |
| MDOT_Mask_In | Bridge Dimensions |
Feature Definitions are mostly unchanged from SS4, however the library has been reorganized. Do not use SS4 templates with a CONNECT seed file. There is a new style of feature definition for Alignments. Annotation feature definitions are set up to take advantage of the Auto Annotate function.
The level library remains mostly unchanged from SS4. Engineering Support is currently evaluating the removal of hundreds of levels. With the new Item Types, many of the old levels are now redundant.
Annotation groups are set up to take advantage of the dynamic labels (Element Annotation and Model Annotation).
New 2D and 3D seed files are provided in the workspace for each State Plane Coordinate System zone.
| Seed File | Usage |
| --- | --- |
| _Zone_2D | OpenRoads Designer files, Sheets |
| _Zone_3D | Solid Models, 3D survey file |