Category:Project Signature Sheet
Jump to navigation
Jump to search
The Project Signature Sheet replaces signing the title sheet of plan sets. Effective with the April 2021 Letting and beyond, Title Sheet wet ink signatures will be replaced on trunkline projects with digital signatures collected on the MDOT Project Signature Sheet.
Non-applicable Title Sheet levels/signature block areas must be turned off to provide the appropriate view before final turn in (see below). The final Project Signature Sheet with all necessary in-house and/or Consultant digital signatures, seals, and logos (per the Project Signature Sheet instructions tab) must be submitted for final turn in along with the completed final plans and corresponding proposal in ProjectWise-Folder 6. See Road Design Manual Chapters 1.02.01, 14.57, and 14.60 for more information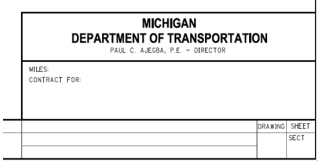 Digital Project Signature Sheet.xlsx
Project Signature Sheet Training Video
For information on how to set up digital signatures: MDOT Digital Signatures
For questions, please contact Chris Tennes
This category currently contains no pages or media.